Togeth­er with our col­leagues Maria Föt­tinger and Fabi­an Ruth from Jugend Präsen­tiert (Youth Presents) we will be host­ing a pan­el on "Rhet­or­ic­al Lit­er­acy as AI Lit­er­acy" at the SUNY Coun­cil on Writ­ing Con­fer­ence 2023 in New York / Zoom.
Main top­ics of the con­fer­ence include eth­ics of per­sua­sion by and with AI, exist­ing and emer­ging AI devel­op­ments and plat­forms likely to influ­ence writ­ing and rhet­or­ic in the future, dom­in­ant dis­courses and rhet­or­ics of AI and more. A focus dur­ing the con­fer­ence will be on the con­nec­tion between rhet­or­ic and arti­fi­cial intelligence.
Ahead of the con­fer­ence the team present­ing the pan­el (con­sist­ing of Markus Gott­schling, Salina Weber, and Anna Köhler from the RHET AI Cen­ter and Maria Föt­tinger and Fabi­an Ruth from Youth Presents) met vir­tu­ally on octo­ber 13th to prac­tice their present­a­tions and clear up the last organ­iz­a­tion­al ques­tions. The main present­a­tion will be held at 10:30 AM EDT (4:30 PM MESZ).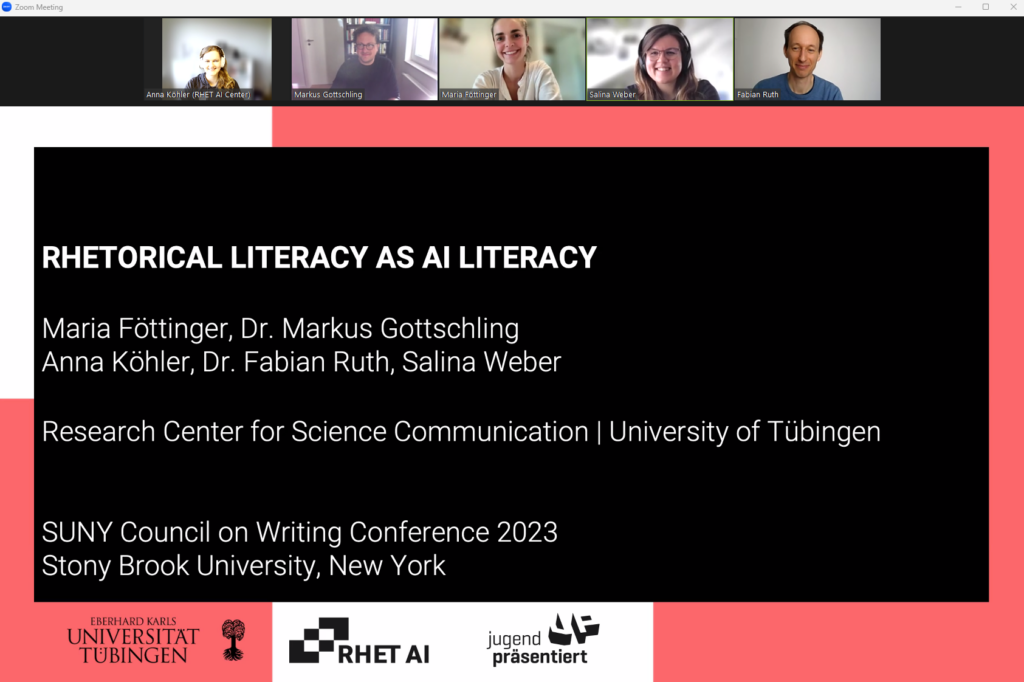 The con­fer­ence will take place on Octo­ber 13th & 14th, 2023 at Stony Brook Uni­ver­sity in New York and being hos­ted online via Zoom.
Addi­tion­al inform­a­tion for SUNY Coun­cil on Writ­ing Con­fer­ence 2023